A Life of Service
After coming ashore at Normandy soon after D-Day, George Chall saved lives and dodged bullets at the Battle of the Bulge. Now 96, he and his wife, Victoria, have found their way to Chatham.
By Matt White | Photography by beth mann
George Chall got his first look at the beaches of Normandy six weeks after D-Day. In August 1944, George came ashore at Utah Beach with his army unit, the 110th Evacuation Hospital, to link up with General George S. Patton's Third Army as it pushed into France and, later, Germany, as part of what would be the grand final act of World War II, the Allied invasion of Europe. George's unit had months of combat ahead at the Battle of Metz, the Battle of the Bulge and beyond, but the day he reached French soil, signs of the invasion were everywhere.
"The beach was a battered scene, with many German fortifications," George remembers. "They're still there."
George, 96, lives in Fearrington after careers as a professor and management consultant. He and his wife, Victoria, will be in Normandy on June 6 for the 75th anniversary of D-Day. Students from Chapel Hill High School and East Chapel Hill High School sponsored his trip through the "NC to Normandy" program. Over the last year, students raised money to send three local veterans of the war to attend the anniversary events.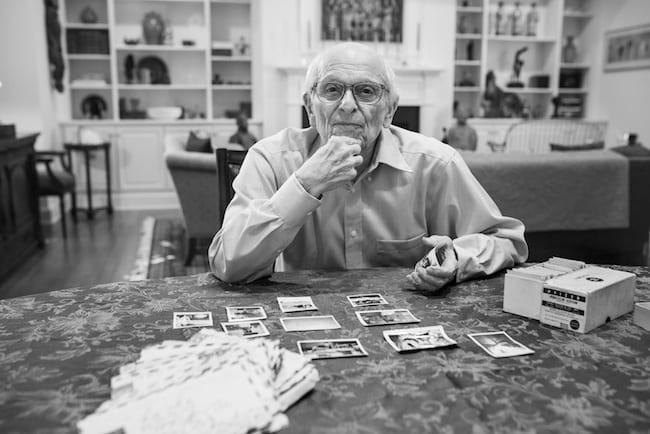 A New York native, George graduated from Long Island University before being drafted and assigned to the 110th in 1944. Created to keep pace with WWII's rapidly moving front lines, Evacuation Hospital units were the precursors of the Army's M.A.S.H. units and the combat medical care that American troops get today. George's first combat experience came when the unit set up in Luxembourg, about 30 miles from Metz, where Patton spent weeks throwing his troops against dug-in German defenders.
The assaults produced thousands of casualties, many of whom were rushed to the 110th's surgical teams. Working in tents or converted buildings, George and his colleagues stabilized the wounded before sending them to safer hospitals or back to the fighting.
"It was triage. Many of the wounded weren't in good enough shape to be transported back, so we had to stabilize them," he says. "But I don't want to talk about that. I want to talk about all the guys we saved."
Besides providing quick surgery, George's unit was one of the first in the war to use penicillin, which had arrived with military units just before D-Day. The early form of the drug was so weak that George had to reinject patients every four hours, around the clock. Still, he says, "penicillin was a miraculous thing. After the war, there were some articles on our penicillin team."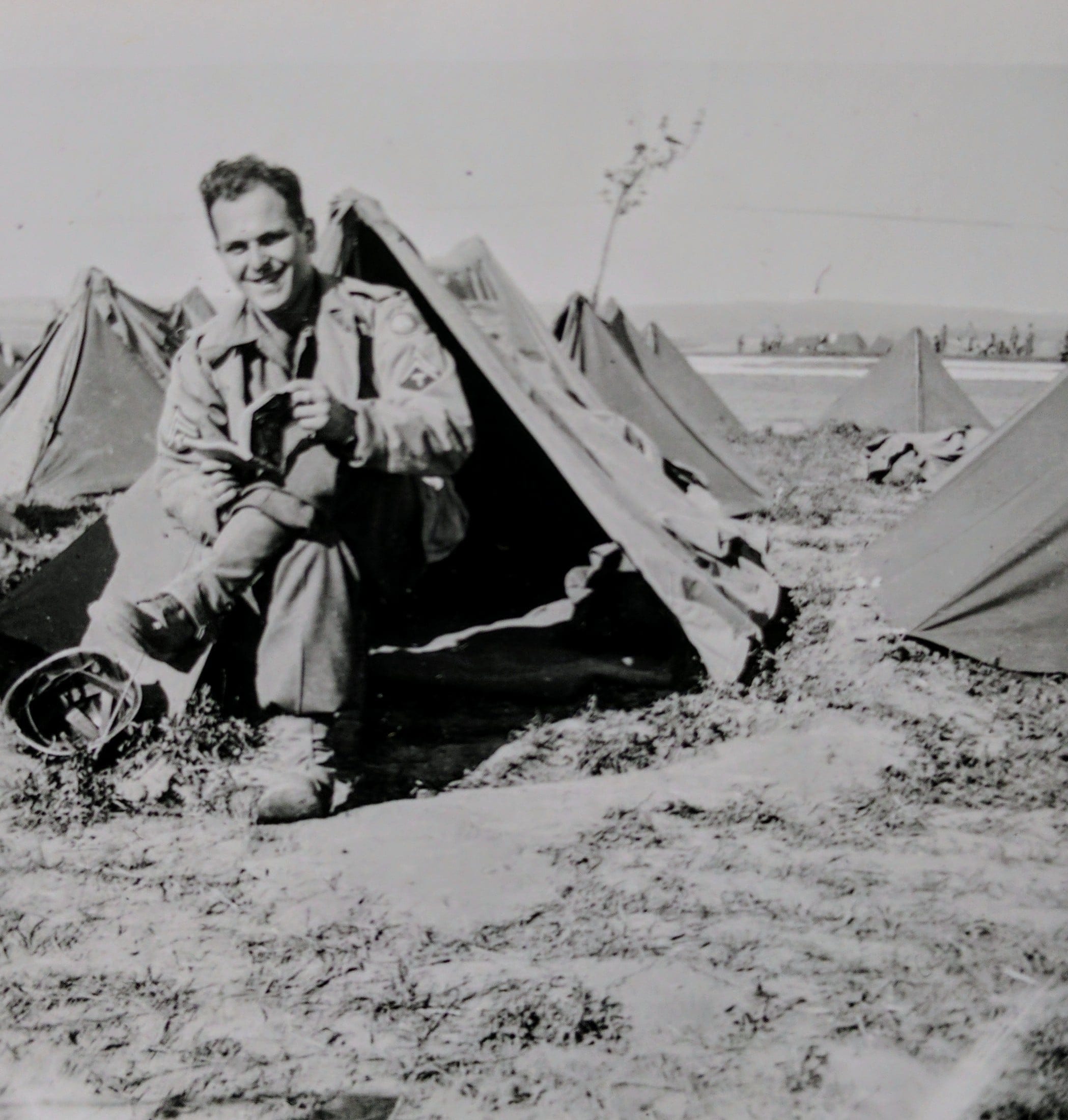 With a working knowledge of German, George was often in charge of wounded German prisoners of war. "I had about 15 or 18 wounded POWs at a time," George remembers, all of whom were hard-boiled fighters. "After the first day or two, they weren't behaving the way I expected a prisoner to behave. And we were helping their wounded!"
Frustrated, he began yelling at the prisoners. "I was very firm," he says. And that worked. "They were jumping out of their gurneys," he said. "They only understood orders."
During the Battle of the Bulge in December 1944 and January 1945, the fighting was so close that the mobile hospital was little more than a combat aid station, treating immediate wounds and frostbite. During one trip into a local village to collect wounded, George and his patients ran into a group of local resistance fighters who told them to get out of town. Immediately. The Germans were on their way, the fighters said, with nothing holding them back but "a few cooks with carbines." It's a phrase that George says he will never forget.
After the war, George – like many who fought it – set a course for his life formed by a desire to reduce the chances of another like it. "World War II was the most important experience of my life," George says. "It very much shaped my life beyond the war. I decided that I wanted to do some serious public service work to go beyond my military commitment."
Returning to New York City, he earned a Ph.D. at Columbia in public policy-related studies and taught college classes before starting a two-decade career teaching government leaders the lessons of international relations and economic development. He also led efforts to restore the Soldiers' and Sailors' Monument in Manhattan, a hub of Memorial Day events in the city.
George was married to his first wife, Marion, for 47 years before her death. He married Victoria in 2002, and the couple left New York for Pittsboro in 2014 after Victoria saw an ad for Fearrington in the back of The New Yorker. "She didn't have to twist my arm," George says. "I like to think I'm a Tar Heel of four-and-a-half years."
Their home is full of art from travels around the world, but his souvenirs from WWII are smaller and kept out of sight. There's a stack of letters he sent to his mother from basic training in envelopes with the red and blue stripes of mail of the day, and a few other loose momentos from his time in Germany. He also has hundreds of wallet-size photographs of himself: in uniform, in pop-up tents, of patients on tables and of bodies in open fields. He keeps them in an original penicillin box he held onto from the war.
Though his medical unit was continually near combat, George says his most dangerous moment may have been on the final day of the war. With the outcome decided, terms of peace called for German pilots to surrender their planes on Allied air fields. So when just hours before the cease-fire, George's unit spotted a German plane as they moved up a road near the Danube river, they believed he was on his way to surrender. Instead, the fighter turned toward their column and strafed it, sending men scattering. No one was hurt, George says, but he realized he had needed luck to avoid dying on the war's last day.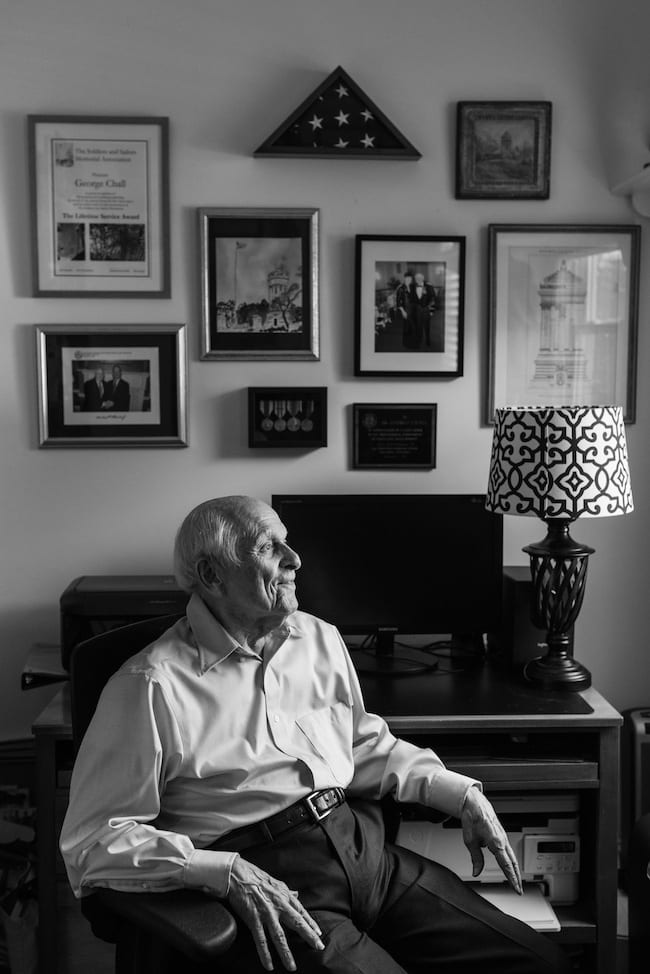 In a final twist, the plane that attacked George's unit was soon shot down, and the injured pilot became his patient. After Americans wrapped the man in a body cast, George bent over him to speak to him in German. The pilot spit in George's face.
"He just didn't want to surrender," George says.  CM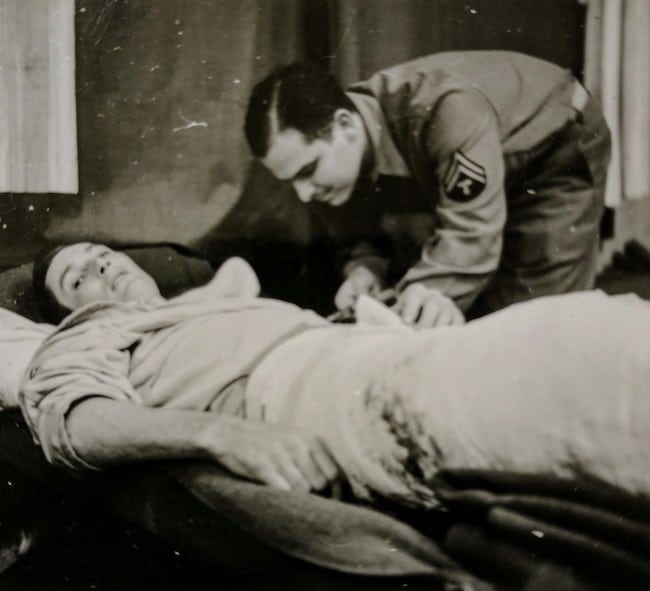 [et_pb_signup provider="constant_contact" constant_contact_list="[email protected]|1461277089″ first_name_field="off" last_name_field="off" title="Connect with Us" description="
Get the latest news about what's going on in Chatham County with our weekly newsletter – The Weekender
" _builder_version="3.23″ header_font="Judson|700|||||||" header_font_size="44px" module_alignment="center" animation_style="fade"]
Contact Us
Please let us know what you think – the best ideas always come from our readers. Send us an email or call our Executive Editor, Matt White, at 919-933-1551.
About Us
Chatham Magazine is a bi-monthly publication that seeks to capture the beauty, charm and unique character within Chatham County.
facebookinstagramtwitter
Visit Our Other Sites