A full life in Ward's Hollow
The Johnsons waited a decade for their restored
farmhouse on Mount Gilead Church Road. It was worth it.
By Matt White | Photography by beth mann
On a recent afternoon, Brad Johnson fixed a tire on wife Dani's car in the driveway of their home, a few hundred yards off Mount Gilead Church Road. A tall former Raleigh police officer who left the department over a decade ago to try his luck as a general contractor and military ballistics expert, he makes quick work of the task, swapping out the tire quickly with a spare.
"We're always fixing something around here," Brad says.
In one sense, the Johnsons' property – once a sprawling farm, now just over seven acres of huge, ancient trees, open green space and a running creek – holds a collection of dwellings in varying levels of repair, from their restored farmhouse to an assortment of homes on wheels that the Johnsons collect in service to a variety of hobbies. An Airstream trailer is parked behind the house for rehabilitation. The Johnsons collect broken and beat-up Airstreams – sleek, aluminium campers, whose vintage styling and distinctive history make them sought after by collectors – and restore them. They've done six so far. They use some as their own before selling them off. For others, longtime owners of older models hire the couple to bring them back to life.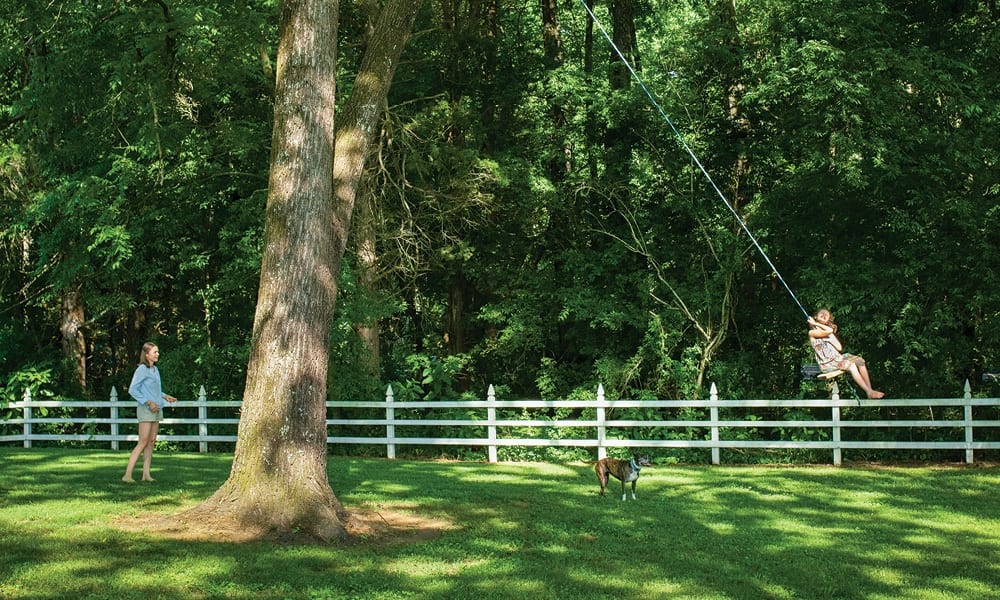 There's also a 1986 Blue Bird bus in the driveway, restored and kitted out as a full camper, kept clean and running by Brad. The family uses it for extended trips, sometimes across the country, or up to the mountains, like a recent trip with daughter Virginia's competitive rock climbing team.
And then there's the home itself, a white farmhouse that dates to the 1850s, which, under the Johnsons' care, is both an immaculate country retreat and a work in progress.
"Like eating an elephant," Brad says, an old contractor joke about taking on big tasks by taking one bite at a time.
Ironically, Brad and Dani spent the better part of 10 years living just down the road from the property, locally known as Ward's Hollow, wishing they could make it theirs.
"We had our eye on it for years," says Dani, a hydrologist and environmental consultant. Over the span of a decade, the couple built two different homes for themselves in the nearby Redbud neighborhood. Both were custom homes, and Brad did much of the work himself, but it was still a subdivision, nothing like the Ward's Hollow farmhouse they would pass nearly every day. On countless trips up Mount Gilead Church Road, they could just make out the white clapboard farmhouse at the end of the gravel driveway, covered under a stand of oak and walnut trees.
The home dates to around 1850, built by Dr. D. H. Ward, a country doctor who settled in Chatham, and who moved the house at least once. The Johnsons have learned about Dr. Ward's life on the farm, including a family story that when authorities raised a local militia to join the Civil War, he skipped out by paying a conscript to take his place. One of Dr. Ward's great-granddaughters, Wyvette Brown Spencer, who now lives in Cary, has visited. She was, she says, one of eight babies thought to have been born in the home's attic space. The original wing of the house still shows signs of its pre-industrial construction. Many of the beams, including some exposed headboards, hold telltale marks of the axes that shaped them before lumber was cut at sawmills.  One such original piece sits as the header over the entranceway – one of several original doorways lower than Brad's 6-foot-4-inch height.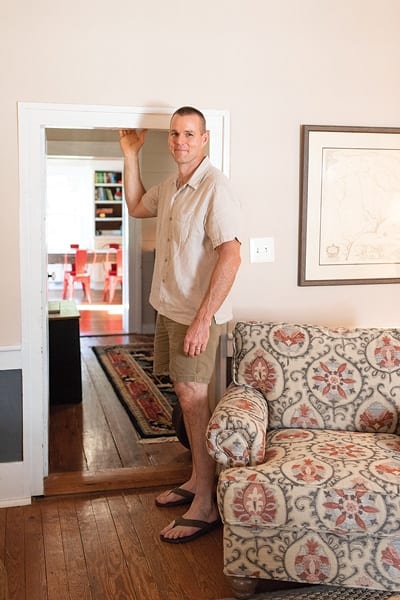 "I had to learn to duck when I walked between every room," Brad says.
Just outside the front door is a cabin where Dr. Ward saw patients. Now a heated and cooled in-law suite, it still sits without a foundation, and the dirt below is visible through the original boards of the entryway floor.
On a walk through the home today, one can sense the subsequent additions, each a bit wider and more open than the last. In some spots, walls that used to be outside are now in, and rough exterior wood now lines hallways. The most recent, and largest, addition came in the 1980s, nearly doubling the size of the house, adding a large master bedroom and a smaller upstairs bedroom that Virginia, 14, and Kimberly, 12, share. Mounted over the entrance to their room is a custom board on which Virginia practices fingers-only pull-ups for climbing. What
were once much smaller bedrooms in the front are now play and study areas for the girls, who are homeschooled.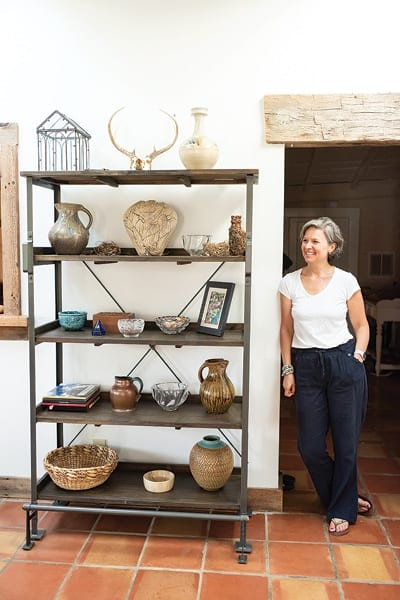 In all, Dani says, the single-level house is just over 3,000 square feet. "It doesn't feel that big because it just keeps going with the additions," Dani says. "Until you have to clean it."
Outside, in the front and side of the house, are two oak trees listed with the county as Grand Trees of Chatham, each at least as old as Dr. Ward's ownership. In the meadow farther back are walnut trees, with a treehouse and a rope swing perhaps 20 feet high.
The Johnsons moved in at the beginning of 2017, though the opportunity to buy the house was set in motion a decade before. In the early 2000s, a developer bought most of the adjacent farmland – Dr. Ward and his family had grown the farm to 250 acres at one point, though it was smaller when it was finally broken up – and began building The Hamptons, a subdivision of estate-style homes that now sits next door. Meanwhile, the farmhouse and its remaining seven acres changed hands a few times as well, including once by foreclosure, and ended up with a couple who planned to use its grounds as a wedding and event space.
Their renovations included a new roof, a generator, a fence between themselves and the growing Hamptons and a gazebo to overlook the creek. But permits needed to hold events never came through, and the old farmhouse went up for sale again.
Brad and Dani weren't about to let it slip by again.
"We'd been thinking about selling the house in Redbud," Dani says. "When we saw this was back on the market, we jumped on it." CM
Read the original article from the August/September 2018 Issue:
[et_pb_signup mailchimp_list="shannonmedia|2abe65a045″ first_name_field="off" last_name_field="off" title="Connect with Us" description="
Get the latest news about what's going on in Chatham County with our weekly newsletter – The Weekender
" _builder_version="3.19.10″ header_font="Judson|700|||||||" header_font_size="44px" max_width="75%" module_alignment="center" animation_style="fade"]
Contact Us
Please let us know what you think – the best ideas always come from our readers. Send us an email or call our Executive Editor, Matt White, at 919-933-1551.
About Us
Chatham Magazine is a bi-monthly publication that seeks to capture the beauty, charm and unique character within Chatham County.
facebookinstagramtwitter
Visit Our Sister Sites