In Like a Tiger
Meet four of Pittsboro's newest furry residents
By Matt White | Photography Courtesy Carolina Tiger Rescue
Some arrived with a roar. Others gave a lazy flick of the tail. But after a long trip, four adult tigers arrived at the Carolina Tiger Rescue in April, the first new tigers to call the Pittsboro animal sanctuary home in two years.
The tigers include three 11-year-old sisters – Yanaba, Shira and Kaari – and one 16-year-old male, Tio. The girls are middle-aged, while Tio, Carolina Tiger Rescue Assistant Director Kathryn Bertok says, is definitely a senior.
"We got a call from a sister organization in Texas," Kathryn says. "They were working with a facility to try to get the animals rehomed. We said 'yes,' and they graciously offered to transport them here."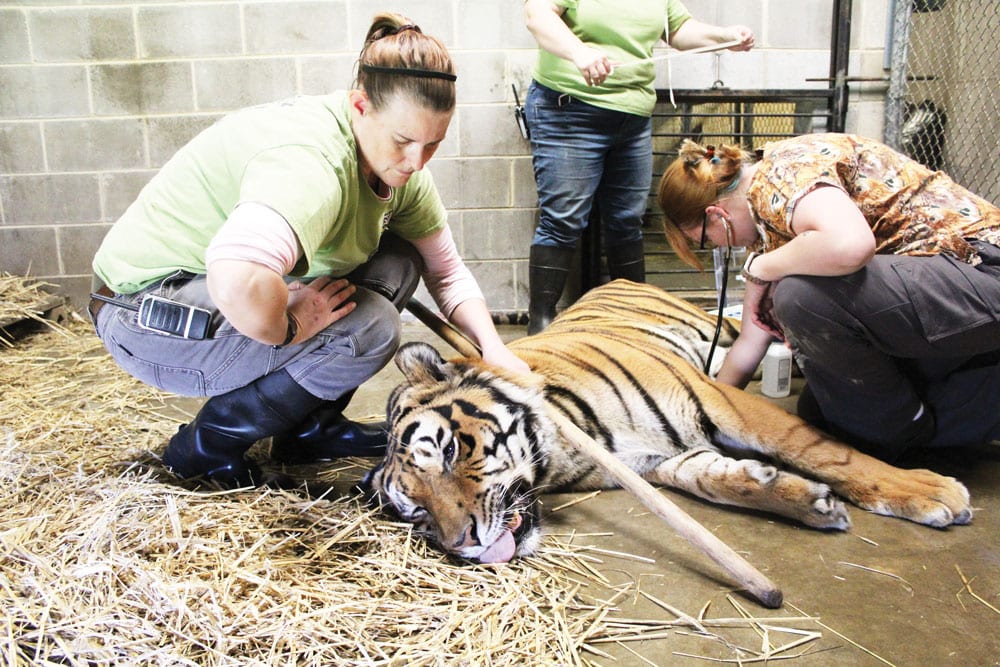 The tigers were temporarily quarantined when they arrived and given full checkups by Carolina Tiger Rescue's veterinarian, Dr. Angela Lassiter, who sedated the animals for the exam. As a federally recognized wildlife sanctuary, the rescue's staff does not make contact with tigers in their care unless they are sedated.
Kathryn says the tigers are adapting well to their new home in Chatham while the staff learns about their personalities. Yanaba gave a roar at staffers in her travel cage, while Tio, Kathryn says, "is very laid-back, very easy going. In quarantine, he didn't mind anything. We had him [on public tours] in a couple days, and he seems very happy to see new people."
Of the girls, Kaari seems the most anxious. "She may decide she's had enough of living with the other two girls, and we may separate her," Kathryn says.
With the four newcomers, Carolina Tiger Rescue is now home to 21 tigers among 49 mostly feline animals. The facility conducts regular tours for the public. Reservations are required. CM
Read the original article from the June/July 2018 Issue:
<div data-configid="13657385/63048723″ style="width:100%; height:600px;" class="issuuembed"></div><!– –><script type="text/javascript" src="//e.issuu.com/embed.js" async="true"></script>
Get the latest news about what's going on in Chatham County with our weekly newsletter – coming soon!
Contact Us 
Please let us know what you think – the best ideas always come from our readers. Send us an email or call our Executive Editor, Matt White, at 919-933-1551.
About Us 
Chatham Magazine is a bi-monthly publication that seeks to capture the beauty, charm and unique character within Chatham County.
facebookinstagramtwitter
Visit Our Sister Sites